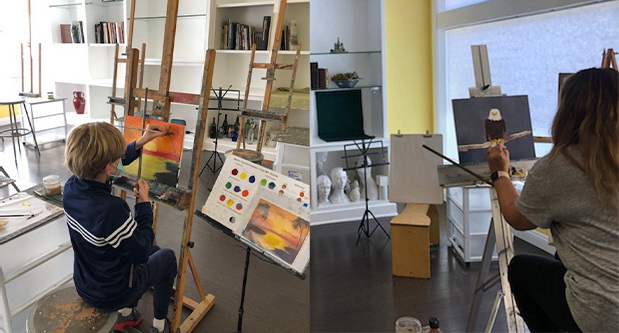 There are a few good reasons to send your kid to a painting class, mainly because painting is fun!
Many parents ignore taking their children to art classes, assuming that it's an activity for the grown-ups. Children can learn to paint and draw quickly and enjoy the many benefits of these activities. A painting class can be the ideal place where kids can spend their free time in a playful and useful way.
Here are some reasons why you should send your kids to painting classes:
Socio-Emotional Benefits of Painting Classes for Kids
In a painting class tasks are assigned to kids to complete on their own. A successfully completed art project offers emotional satisfaction. Kids learn to make decisions and solve problems on their own all that leading to enhanced self-esteem. Painting classes aid in developing inventiveness, self-discipline, self-motivation, and cooperation with teachers and other students.
Painting classes encourage and develop creativity - creative thinking and creativity are some of the essential skills that kids can learn in a painting class. In our painting classes, kids are encouraged to think outside the box, to dare to be original, and come up with new ideas.
Painting develops fine motor skills - painting involves all senses, activities involved in the act of creation, such as drawing lines, mixing colors, applying paint on a canvas helps in developing hand-eye coordination, fine motor skills and dexterity. Perhaps the most basic benefit of painting classes for kids is fine motor skill development. Working with various instruments in a painting class, kids develop their small muscles and fine motor skills. In our classes, we use techniques that will harness all those skills.
Painting boosts academic performances - there are studies that show that kids who attend art classes have better performances at school; read better, learn faster, understand other school subjects more clearly and get better grades. Painting stimulates both sides of the brain, enhances focus and concentration and stimulates perception.
Kids learn to express themselves - art classes provide a safe and ideal environment where kids can learn to express themselves in a creative way. The act of creation gives them the opportunity to express what they think, how they feel, and learn how to communicate their ideas in an original way.
One of the Top After-Class Activities for Kids
Here at Martin Fine Art Classes, we know that our little students' development and creativity need to be fostered and we focus primarily on creating the perfect environment and providing the proper guidance for that. For all these - and many other - reasons, when looking for after-school activities that your kids could be involved in, painting classes and fine art classes, in particular, should be on top of your list.