It might not seem like it, but time passes fast, and we'll soon be wondering how we didn't notice it's that time of the year again.
The awaited holiday season is quietly approaching, and we will find ourselves wondering what gifts we should choose to make our dear ones happy.
When it comes to the people who we love and cherish the most, preparing a present might not always be an easy task. We just want the perfect gift! It must be something that will make our dear ones genuinely happy and convey our feelings of love and care for them.
Besides the cozy and warm Christmas sweaters, the fluffy shocks, and the hot delicious chocolate drink, you can gift your dear ones something filled with emotional meaning.
The best gift for art lovers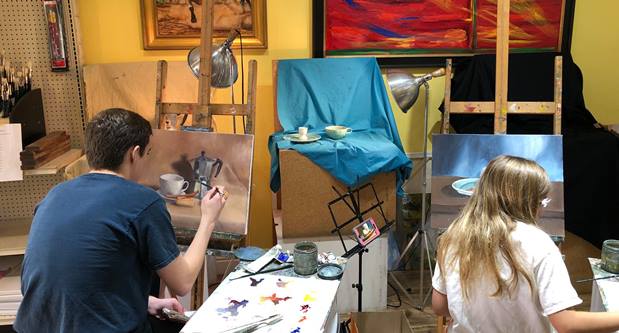 If someone dear, a friend or a family member, is passionate about making art, we might have the best gift idea for the holiday season: fine art classes.
Martin Fine Art Classes teaches all age categories, from kids to teenagers and adults, and all skill levels, from people with zero artistic skills and knowledge, beginners, and advanced.
Our instructors can easily adapt to working with anyone, even though they might not have much knowledge from the start, so this is not something you should worry about.
However, if you want to make sure the art classes you wish to gift will not make the other person feel awkward or disappointed, you can ask them directly if they would enjoy such a holiday present.
This way, you can avoid an uncomfortable situation (maybe the other person already takes art classes or might not feel good in a group setting).
A gift can still be a gift even without the surprise element. How this present makes the receiver feel comes first, so in case you are already sure art classes would make your beloved one happy, you can go ahead and keep the gift a secret.
Create a gift yourself in our fine art classes
Impress your art-loving friends and family by putting in the time and effort to make a gift for them by yourself.
In our art classes, you'll find support and guidance to create an art piece that would bring tears into your dear ones.
The person you want to make happy for the holidays might not be interested in learning how to draw and paint, so giving them art classes might not mean much to them.
But if they enjoy art even though they are not creating it, giving them something you paint or draw might carry a lot of meaning.
Think of what they would love to receive for you; a fan art with their favorite character or perhaps a portrait - maybe you know best.
And if you are not too confident in your artistic skills, we can teach you from scratch:
line drawing - how to sketch, taking into consideration the proportions and accuracy, and how to build a drawing from sketching
understanding value when creating three-dimensional drawings - learn to create mass and dimensions through shading and values, and understand how to balance the lights, dark and medium values
oil painting and acrylic painting - color mixing and color theory; learning different styles and techniques while creating a variety of oil paintings
watercolor - building on the previous knowledge of oil and acrylic painting, students will get familiarized with using watercolors
advanced drawing and painting - you can constantly improve your skills and learn advanced techniques, try art mediums such as advanced pastel, colored pencils, and graphic pens
duplicate the greatest artists - development of your artistic skills can come through the duplication of the works of art masters
Spending time together for the holiday season
Given the last two years' social and physical distancing, what could be more rewarding than spending some quality time with your best friends and family for the holidays?
We all lost contact with some of our closest friends due to the difficult times we're going through and the safety concerns the pandemics raised, but maybe it's time for reconciliation and reunion.
At Martin Fine Art Classes, we care about your well-being and safety by ensuring all the safety anti-Covid precautions are followed.
We want you to feel secure while taking art classes to impress your dear ones and to feel at ease when you offer others the opportunity to learn drawing and painting with us as a Christmas holiday surprise.
And if time together is what you want to offer to your family and friends, you can all enjoy a free introductory lesson at our Encinitas studio.